Pyrowizard™ Handheld Pyrotechnics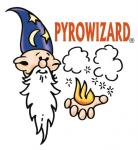 Shoot a ball of fire from your hand, create wispy smoke from seemingly nowhere, or startle your audience with an electrical explosion of sparks. From school plays to Broadway, from magicians to movies, our products are used around the world by countless professionals.
Our Pyrowizard™ line of products are made in the USA, with each part being assembled by hand and thoroughly tested to meet our strict standards of quality.
Accept no substitute: our products are built to last a lifetime!
Pyrowizard™ Product Categories
Complete Pyrowizard™ Product List