POPULAR CATEGORIES:




---

NEW

STAGE DIRECTOR Cannon Series
Bigger Cannons - Better Pricing
Theatre Effects is proud to present the new STAGE DIRECTOR series of professional re-loadable confetti & streamer cannons. The best hand-held cannon system on the planet!
Confetti and streamer launchers were originally conceived as a safe and regulation-free alternative to pyrotechnic special effects. You truly can use confetti and streamer cannons to create spectacular indoor simulated fireworks displays, launching showers of streamers and confetti that seen to burst in mid-air. But your options do not stop there.
You can launch T-Shirts, effortlessly create puffs of simulated smoke, water spouts, shoot ping pong balls, business cards and so much more. Fill the air with huge pieces of fluttering brightly colored tissue. Amaze your audience, giving them something to REALLY talk about!
---
The Geyser™ P7 Cryo / Pyro Simulator
Add Drama To Any Performance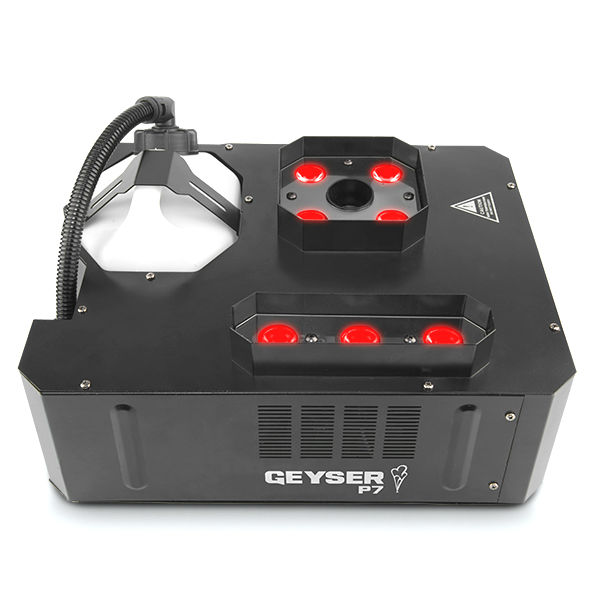 Give your audience the awe and eye-candy they will talk about long after your show! Make a statement with the Geyser™ - a unique effect fogger that adds a touch of drama to any performance. Never worry about the hazards of toxic chemicals, real fire, or heavy CO2 canisters. This powerful fogger blasts a vertical stream of safe, water-based fog while simultaneously illuminating it with 7 high-power (9W) penta-color (RGBA+UV) LEDs. Precise control over the LEDs allows you to easily mix the perfect color to illuminate the fog, creating a photo-realistic "flame projector" or "flash pot" effect.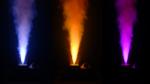 Perfect for venues where pyro is not allowed but you need that added punch on-stage. There are endless uses for the Geyser. It can be sat on the stage, mounted upside down in your light grid, or hung on a side bar and shot off sideways.
More Information
---
Popular Fog Machines
Perfect for Productions on a Budget!
Theatrical fog machines create fog by vaporizing a special, safe and non-toxic water-based fluid. When used according to instructions, they leave no residue. Fog greatly enhances any lighting effect. It's used extensively in haunted houses, nightclubs, concerts and theaters. Popular Fog Machines is our line of economically priced models suitable for most applications. (Theme parks, arenas, stadiums, cruise ship shows and other large-scale or long-running shows should choose from our Professional Fog Machines category below.)
All models use Theatre Effects Fog Fluid.
More information on these systems can be found by following the links below.
Don't forget: always use Theatre Effects high-quality Fog Fluids for optimum results and extended life of your machines! Our fluids are manufacture in our Northern Kentucky facility and meet the highest industry standards using only pharmaceutical-grade ingredients.
---
Professional Fog Machines & Fluids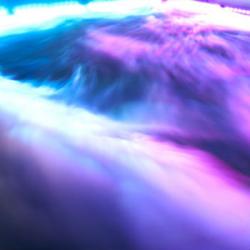 Fog machines are perhaps the most widely used special effects device in the theatre today. Advances in technology over the past several years have developed them from noisy boxes emitting foul-smelling smoke into fairly quiet devices capable of producing huge amounts of virtually scent-free fog. Fog machines have also dropped in price significantly over the years so that, today, a fog machine is within the budget of almost any school or community theatre group. Theatre Effects is one of the largest suppliers of theatrical fog machines and fog fluids in the United States, and we are proud to offer quality machines by the following manufacturers:
More information on the professional machines we carry can be found by following the manufacturer's links above, or browse our entire Fog & Haze Machine collection. Don't forget: always use high-quality Fog Fluid for optimum results and extended life of your machines!
---
The world's LARGEST manufacturer of hand-held pyrotechnics - since 1975
Our goal is to supply you with the products that you need to create all of your effects, quickly, efficiently, and at a reasonable price. We want to be your one-stop special effects shop.
Unlike other companies, we are ALWAYS happy to speak with our customers; answering questions, and helping them find the right products to create their desired effects. Check out our Fun FAQs & Helpful Hints section for some of our favorite topics over the past 40 years. Need help with a special effects-heavy show? Check out our Show-Specific Effects section. You are also welcome to call us anytime at 1-800-791-7646.
---
Attention Schools!
We accept purchase orders from all accredited K-12 & Universities. Orders may be emailed to service@theatrefx.com or faxed to 859-647-0075. Please be sure all purchase orders have a contact phone number and email address for order confirmation and shipment tracking.
---
XForce COVID-19 Killer
IN STOCK & READY TO SHIP
EPA APPROVED FORMULA PROVEN TO KILL COVID-19

- KILL COVID-19
- BLEACH, SOLVENT & ALCOHOL FREE
- MANDATORY PRACTICE FOR BUSINESS REOPENINGS
- EPA REGISTRATION No. 1839-220-70053
- MADE IN THE USA

Cleans, Disinfects, and Deodorizes in only one step. Kills Covid-19 in 5 minutes. No rinsing or wiping needed for most applications.
XForce is an EPA-Approved "List N" neutral one step Virucidal Disinfectant cleaning spray that has demonstrated effectiveness and can be used against viruses, including cold and flu viruses and the 2019 Novel Coronavirus (COVID-19), when used in accordance with directions.
XForce is a "Ready To Use" spray that can be used on door knobs, chairs, floors, walls, tables, counter tops, display cases, cash registers, desks, computer keyboards & mice, shopping carts, child seats, gym equipment, safety gear, waiting rooms, shower stalls, bathtubs, toilets, and most other surfaces.
Bleach-Free, Solvent-Free, Alcohol-Free, and with a clean, fresh, citrus scent.