DIFFUSION - Cloud in a Can

Part #: FG80

Price: $15.00
Description
Also known as Diffusion Spray, this product allows you to haze up a confined area without a Hazer machine. 5 minutes of haze output per can. When sprayed, the droplets spread out to fill the room with an even haze; therefore, it must be used with doors and windows shut and you must spray enough droplets into the room to be visible when they spread out. The droplets last for almost an hour. Perfect for photographers and motion picture work, this product is also great for Halloween parties in areas like rec rooms and basements. Combined with blacklights and strobelights, you will have the spookiest party around! Spray for one minute every hour. One can lasts for the whole party.
EXTREMELY popular item for productions and tours of "Hairspray" the musical!
When making your purchase, choose between single cans or a discount priced case of a dozen (12 cans for the price of 10!)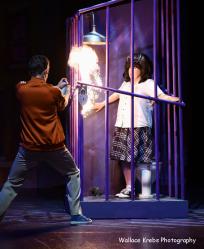 Features
Odorless
Meets EPA Standards
Ozone Safe
Contains no Fluorocarbons
Specifications
Can Dimensions: 9-1/2 inches high X 2-1/2 inches wide
NET WT. 8oz. / 227g
Always act responsibly when using special effects!
* LABEL ART MAY VARY
* NOTE: This product does not qualify for flat-rate shipping when purchased by the case/12. Exact shipping fees will be charged. This item is not eligible for expedited (air) shipping and cannot be shipped outside of the continental USA. Please call us for more details or to obtain a freight quote.