COBRA Product Overview

COBRA offers a wide range of products for everyone from outdoor pyro enthusiasts to professional shooters. These systems are built to withstand the rigors of Theatrical, Motion Picture, Military, and all other indoor and outdoor special effects and fireworks installs.
COBRA boasts affordability and ease-of-use at all levels. With our world class support, you can feel comfortable knowing you are in good hands if you need assistance at any level.
Take the time to review our products below. If you would like to speak to us over the phone for recommendations or an introduction to these products, don't hesitate to contact us at:
1-800-791-7646.
Below you will find details about the COBRA product line, as well as some useful demonstration videos. If you would like to purchase any of these items, please visit our COBRA Store.
How Does COBRA Work?
In a nutshell, the COBRA Wireless Firing System consists of one Remote and one (or more) Modules. The Remote is "synced" to a Module, which receives the "FIRE" signal from the Remote and detonates the pyrotechnic device. The Remote has 18 built-in cues and is capable of controlling up to 100 individual groups of Modules. With 100 channels and 18 cues per module, you can fire up to 1,800 unique cues. You can also set as many modules as you want to the same channel to fire multiple positions at the same time, allowing for infinite design options.

Remote Controls

The remote control is the master brain of firing! This is what you hold in your hand to fire the show. We offer a variety of controllers to support basic manual firing, sophisticated world class pyromusicals, and everything in between. Boasting bi-directional communication, the COBRA remotes remove the guesswork that exists in most wireless systems by allowing you to check continuity, arm-state, and signal strength directly from the remote. You can feel confident knowing your modules are armed, in good range, and ready to fire from the palm of your hand at any time.
Firing Modules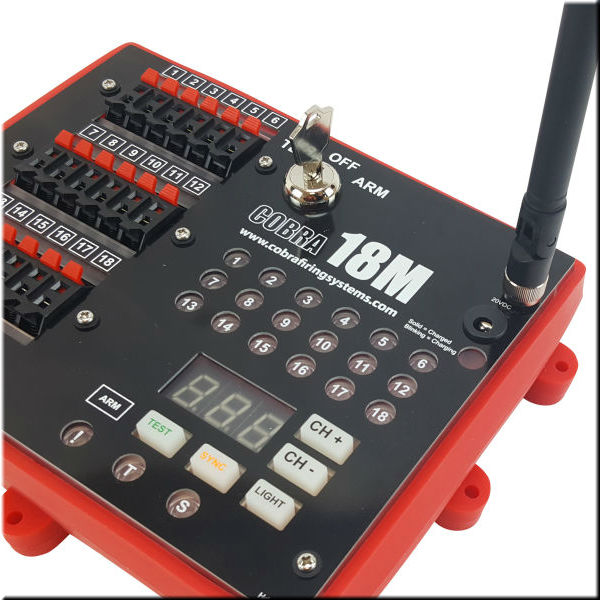 The module is responsible for firing the fireworks. The fireworks are connected to a "cue" on the firing module using an e-match or igniter clip. When the "cue" fires, electricity is sent through the cue which in turn lights the fuse causing the firework to ignite. COBRA offers modules with varying cue counts and connection methods.
Capable of firing standard Electric Matches, any brand of Pre-packaged Pyro, Talon Igniter Clips, and our IG03 Surefire Igniters, you can control one or more modules (up to 1,800 cues) from a single 18R Basic Remote or 18R2 Pro Remote.
Accessories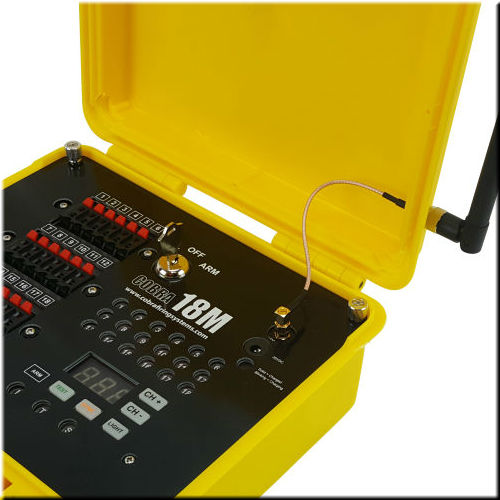 COBRA employs a universal, modular design. This means that all COBRA products will work together as a family. In addition, our modular design approach allows you to purchase a wide variety of accessories for enhancing the performance, functionality, and protection of your system.
Don't see the product you need? Don't worry, we probably have it! We are proud to carry the entire COBRA line of professional Wireless Firing Systems. Call us with any questions or to obtain a detailed quote: 1-800-791-7646.